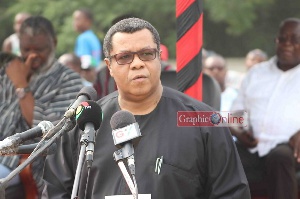 A group calling itself Grassroots Consolidated Alliance, comprising of members of the National Democratic Congress (NDC), wants the former flagbearer of the defunct National Reform Party (NRP), Augustus Obuadum Tanoh, to contest for the NDC's flagbearership position.
According to the group, the NDC, which is at the crossroads, needs a flagbearer, who truly understands the ideology of the party and witnessed its formation.

"The 2020 election will be hard. Despite the bad performance of the NPP many Ghanaian voters will want to give it a second term, especially as many voters say that they can no longer tell the difference between NDC and NPP. NDC must transform to win in 2020 election; that is hard work. It cannot be led by the same team that failed us so badly in the 2016 election and even our own supporters rejected and who have not yet accounted to the party for their stewardship," the group said.

Spokesperson of the Grassroots Consolidated Alliance, Coleman Mambisi said the group and other concerned members of the NDC have been anxiously waiting for Augustus Obuadum Tanoh, popularly known as Goosie Tanoh, to express his desire to vie for the position.

"Goosie has not declared his intention to run, and time is running out. We are therefore calling on Mr Goosie Tanoh to heed our humble call and declare his intention," the spokesperson added.
In their view, the NDC needs a presidential candidate who cannot be easily distracted by numerous allegations.

"We have looked at all the aspirants; they are all honorable men. They all have deep love for NDC. They all have experience in government. However, this is not enough for the 2020 elections we need more than they have to offer.

"We need leaders who were in the trenches during the PNDC period, people who understand the danger Ghana is facing today because of the greed that is collapsing all our institutions," he said.

Mr. Coleman Mambisi called on members of the Alliance and the entire NDC to campaign for their candidates devoid of insults and accept the outcome of the presidential primaries in December 2018.