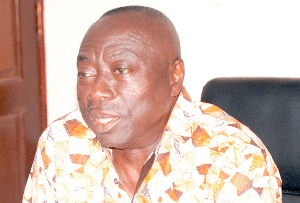 Co-Chair of Citizens' Movement Against Corruption Edem Senanu has called upon the Commission on Human Rights and Administrative Justice (CHRAJ) to look into the conflict of interest allegations levelled against the Director General of the Ghana Maritime Authority (GMA).
Kwame Owusu has been accused of approving payments to LUXE Hotels – which he owns – for services rendered to the Authority.

The board of the Authority was directed by the Minister of Transport, Kwaku Ofori Asiamah, to investigate the allegations.

Maritime Authority boss being investigated over conflict of interest Unfazed by the investigations, Mr Owusu verbally attacked journalists he claimed are leading a "mischief" against him.

He told journalists at a press conference on Tuesday that he finds no wrongdoing in the award of contracts to his relations and his hotel.

"It was run even outside of me," he stated.

But Mr Senanu said such issues can only be investigated by independent bodies like CHRAJ.
"Issues of conflict of interest ought to be dealt with by the Commission [on Human Rights and Administrative Justice] and they are the right quarters where they can deal with the issue."

Speaking on TV3's News 360 on Tuesday, CMaC's Co-Chair said the GMA board cannot be trusted to do an impartial work since it has also been implicated in the scandal.

"I don't think that the board is the appropriate quarters because they themselves have been implicated in the process by virtue of what the Chief Executive [Officer] has told us

"And so it is not appropriate for the board to be the one investigating."