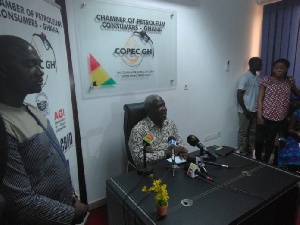 The Chamber of Petroleum Consumers (COPEC) has called on government to scrap the Special Petroleum Tax (SPT) and other levies that have made the cost of petroleum products in the countryshoot up.
According to the chamber, the SPTspecifically has outlived its purpose and has now become a nuisance tax.

"We are mindful of several avoidable taxes on the petroleum pricing build up, and we want the government to do a downward review…considering now that it is making income gains with the surge in world market prices.

"We call for the immediate removal of this particular tax and others as contained in our earlier petition to the president, so as to reduce unnecessary pressure on our pockets and stabilise the incomes of Ghanaian workers," Vice Chairman of the COPEC Council, Solomon Kotei, told journalists in Tema.

Data released by the chamber show that fuel prices in Ghana are relatively higher than across the sub-region and among other petroleum producing countries.

While a gallon of petrol costs between GH?7.74 and GH?15.27 in countries such as Egypt, Algeria, Nigeria, Dubai, USA and Russia, the same litre goes for GH?20.83 in the country.

"Some of these countries produce oil while others don't; but they are clearly not overcharging their people by way of taxes to push pump-prices above pockets," Mr. Koteiemphasised.
Even though the SPT was reviewed downward from 17.5percent to 15percent in the 2017 budget, the chamber opines that the reduction was "simply mathematical" and does not reflect reality on the ground because consumers are now paying even more for the commodity.

Instead of what the chamber sees to be an over-dependence on petroleum taxation, Mr. Kotei suggests that government must introduce new and ingenious ways of expanding the tax bracket to attract more revenue for its development programmes.

This, he said, will offer some relief to Ghanaians, as it will "ease the pressure on our pockets" and bring about some stability.

"Hikes in petroleum prices are generally associated with hardships, hence the need to scale-down some of the taxes choking the current price build-up.

"The net effect of these rampant increases in pump-prices goes with the surge in prices of foodstuffs, goods and services, as well as import duties and inflation…basic necessities of life keep shooting up in the face of rather stagnant and meagre incomes and salaries of Ghanaianworkers."