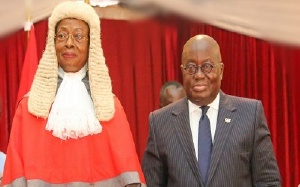 Anti-graft body, Corruption Watch and other Civil Society Organisations (CSOs) working on anti-corruption programmes as well as some media organisations have petitioned President Nana Addo Dankwa Akufo-Addo, the Speaker of Parliament Professor Mike Oquaye and the Chief Justice Sophia Akuffo over corruption in the country.
The petition dated 9 December 2018 stated that Ghana's fight against corruption over the years has not been the best, a situation that requires immediate attention.

"We, the undersigned, on this 8th Day of December being the penultimate day to the International Anti-Corruption Day on the 9th December 2018, write to petition the President of the Republic of Ghana, Nana Addo-Dankwa Akufo-Addo, the Speaker of Parliament, the Right Honourable Professor Mike Ocquaye and the Chief Justice, Her Ladyship Justice Sophia Akuffo."

"As primary custodians of our development aspirations codified in the 1992 Constitution, we wish to raise concerns about the creeping normalization of corruption among the populace and the threat it poses to our development aspirations to move Ghana Beyond Aid to an economically independent, confident, peaceful and prosperous nation," the petition said.

It added: "This year's International Anti-Corruption Day commemoration on the theme 'United Against Corruption for Development, Peace and Security', is timely and appropriate for reflecting on the state of corruption in Ghana and the need to radically rethink and intensify our efforts to deal corruption a fatal blow."
"The international anti-corruption campaign focuses on corruption as an impediment to the realization of the Sustainable Development Goals (SDGs), particularly how corruption affects education, health, justice, democracy, prosperity and development.

"The current state of our anti-corruption fight in Ghana is a story about stagnation. To put the state of our anti-corruption fight in perspective, we can generally say that we have stagnated in our fight against corruption for the last 10 years, at least in terms of outcomes."

"Several indices support this perspective. The Transparency International (TI) 2017 Corruption Perception Index (CPI) shows that between 2008 and 2017, Ghana has never attained a score of 50, which will represent at least a pass mark."

"Worse still our record over the ten years demonstrate a failure to sustain gains made in certain years."