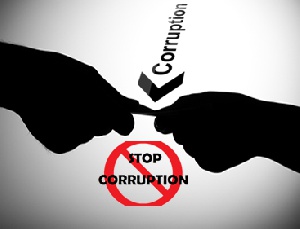 Mr Kwesi Boateng Assumeng, Programme Officer at the Ghana Anti-Corruption Coalition (GACC), has called on various Civil Society Organizations (CSOs) to intensify the campaign against corruption in Ghana.
He said corruption hampered development, and that, it was vital for CSOs to marshal all efforts to increase the campaign in the fight against the "dishonest act" in the country.

He made the call in Tamale on Tuesday, at a Regional CSOs dialogue on anti-corruption and decentralization and organized by the GACC, with funding from STAR-Ghana.

It was meant to keep up with the CSOs to develop structural processes that would strengthen government's engagement to promote good governance and fight corruption.

Mr Assumeng said corruption was becoming institutional norms, which needed to be eschewed and stressed that the citizenry needed to come together to help solve the problem.

He appealed to the citizenry not to allow themselves to be corrupted but rather to report any act of corruption they came across to the appropriate institutions.
Mr Inusah Iddrisu, Senior Public Education Officer and Investigator at the Commission for Human Rights and Administrative Justice (CHRAJ) advised for a proper remuneration package for civil servants to ensure that they were not engaged in any form of corrupt dealings.

He advised the public to take keen interest about ongoing projects in their communities and must make the necessary inquiries about accounts to avoid inflating of figures as means of fighting corruption.

Mr Abdul-Kudus Husein, Communication Officer, GACC, said the coalition was also a lead advocate for the legislature to pass the Right To Information (RTI) Bill into law, which would aid the fight against corruption in the country.

Mr Mumin Issah, a participant, said asserts declaration should not be only limited to political appointees but must be extended to civil servants to ensure accountability.