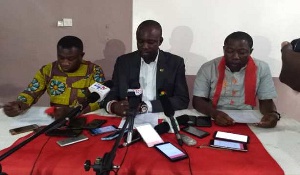 The National Labour Commission(NLC) has ordered striking teachers at the various Colleges of Education to return to the negotiation table.
The Commission has also directed government and all the parties involved in the protracted market premium impasse to resolve the issue within 14 days.

This follows a meeting with leadership of the Colleges of Education Teachers Association of Ghana(CETAG).

All 46 Colleges of Education have been shut down indefinitely following the failure of government and CETAG to reach a middle-ground on the payment of their interim market premium as well as their book and Research allowances.
The National President of CETAG, Prince Obeng Hema says the National Executive Committee(NEC) of the union will meet to decide on the next line of action.

"As it is now we're going to go back to our people to inform them; that is the NEC and respectively inform them and then we begin the process" he told Accra-based Citi FM.