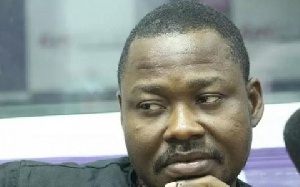 Anthony Nukpenu, Greater Accra Regional Secretary of the National Democratic Congress (NDC), has blamed the party's historic defeat in last year's elections on the neglect of the party structures at all levels by the campaign team.
According to him, resources and logistics meant for campaign were rather sent to some groups that emerged in the lead up to the elections, a situation that got executives of the party peeved, hence their failure to work extra hard to secure victory for the NDC.

Speaking in an interview with Chief Jerry Forson, host of Ghana Yensom, on Accra100.5FM on Friday March 24, Mr Nukpenu said: "Even at the regional secretariat we did not have vehicles to campaign with, but all these are not necessary now. We have gone through a vigorous election that we expected to retain power, but at the end of the day the will of the people held; they wanted a change. People did not cherish the power again so they expected a different leader, and so there is no point to claim some items were sent to the party structures and were never used.

"The last election was the most expensive campaign in the life of the NDC in terms of supply of T-shirts, and supply of other logistics and physical cash, but those items never passed through the party's structures. Some went directly to parliamentary candidates and some went to so-called groups that mushroomed up in the name of galvanising votes which never materialised in anything.
"So those who distributed the items should go to where they sent their items and ask them questions. As for the NDC party there are branch offices – constituency, regional and national – and one main reason why the executives did not work is because of these kind of mushroom groups that claimed to be campaigning for the president.

"They were resourced with T-shirts and other logistics, distributing them, and these peeved the branch, constituency regional and national executives because the structures were put aside and these mushroom groups were aided and sponsored to go and mess up and that was the result we got. As for the logistics they never came to the party."