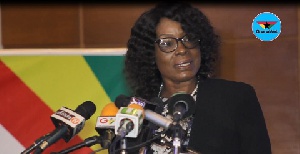 The MP for Sekondi and Vice-Chair for Communications Committee of Parliament Andrew Egyapa-Mercer has called for swift action from the Attorney General's department over EIB's Cash for Justice investigative piece.
An investigative piece by EIB's investigative journalist Edward Edwati has exposed a senior state attorney taking money to compromise justice.

The senior state attorney, Emmanuel Lawrence Otoo-Boison, in a conversation caught on tape advised a crime suspect, who is said to be on the list of the International Criminal Police Organisation (INTERPOL), to run away from facing trial after taking a pregnant goat and cash from the suspect's 'agent' in the latest undercover investigation on Ghana's justice system.

The suspect, Mohammed Awal, is standing trial in the Upper East region for rape and is reportedly also wanted in Burkina Faso for alleged involvement in some crimes committed in the neighboring West African country.

Commenting on the revelation, the legislator called for drastic punishment for the culprit.
"It's been in the rumour mail that people pay for their cases to be dropped and all of that. In the AG space we least expect some of these things. I think some measures can be taken by the AG to deal with this individual. This should not delay".

Also commenting, former vice Chairman of PIAC Kwame Jantuah said he is shocked that corruption still exist in the judiciary after the Anas investigative work on judges.

"It's however important that these investigations continue and happen often so that the rots in various sectors can be brought to bear. The Chief Justice field is and elite position. Why will one want to take Ghc1000 and a pregnant goat to help a suspect. I'm still surprised that even after the exposé on Judges people will still be doing things like this. This shows that the act of bribery is still happening".