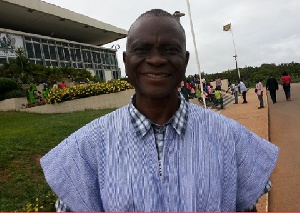 A former Upper East Regional Minister and Current board member of the Northern Development Authority (NDA), Boniface Gambila, has stated that churches and mosques take monetary contributions from their members without any background checks on the sources of the money, implying that they may be part of problems of society.
The New Patriotic Party ( NPP) parliamentary aspirant for the Nabdam Constituency claims that pastors, prophets, evangelists, imams and Reverends collect tithes and church and mosque collections and donations without probing the givers and without any due diligence.

His comments are a reaction to claims by Most Rev. Awotwi Pratt, Former presiding Bishop of the Methodist Church of Ghana that big thieves get away with their crimes because the security agencies are filled with puppets of the ruling government.

Mr Gambila, while agreeing with Most Rev. Awotwi Pratt, notes that the big thieves are made to chair church fundraising committees, and are made to sit as VIPs in churches without due diligence.
There has been a viral video in which Most Rev. Awotwi is seen criticising appointments into the security agencies and the jailing of petty thieves while "big" thieves are left off the hook.

"Go around the prisons, as we go around to give communion, 'he has stolen a fowl', 'he has stolen a goat', some in remand for years, yet those who openly steal and plunder walk our streets, what kind of society is this?", he quizzed.