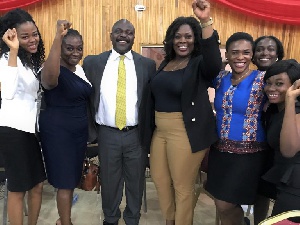 The General Manager of Coconut Grove Regency Hotel, a subsidiary of Groupe Nduom, Raphael Ayitey has been elected an Executive Member of the Association of Ghana Industries (AGI).
Representing the chain of Coconut Grove Hotels, Mr Ayitey was elected together with Mr Gopal Vasu to serve as Executive Members for a three-year tenure at a National Executives elections held at the 57th AGI Annual Meeting, at Trade Fair Site in Accra.

Coconut Grove Regency Hotel is part of the chain of Coconut Grove Hotels with three branches in Elmina, two in Accra and one in Obuasi. There are other two coming up in Kumasi and Wa.

The Chief Executive Officer of Danadams Pharmaceuticals, Dr Adu-Gyamfi, was elected the new president of AGI with CEO of FC Group of Companies Grace Amey-Obeng securing the National Treasurer position.

Mr Ralph Ayitey comes on board with a wealth of experience in the hospitality industry. He had been chairman of AGI's Select Committee on Hospitality and Tourism for the past four years.

Who is Mr Ralph Ayitey?

He is an accomplished General Manager in leading 2-3 stars category Hotels and Resorts in the country. Starting from Busua Beach Resort in 1997, he has acquired and exhibited extensive knowledge in sales and marketing, operations, food and beverage, human resource development, security, accounting and finance, purchasing and distribution, housekeeping, projects and maintenance operations in hotels and resorts in Ghana and Monrovia, Liberia.
He has served in the hospitality industry for the last 18 years and is currently the General Manager at Coconut Grove Regency Hotel, Accra, a Groupe Nduom Company.

He holds a post-graduate Diploma in Marketing from the Chartered Institute of Marketing, Moorhall, UK.

Plans for AGI as Newly Executive Member

GN Media caught up with Mr Ayitey after winning the elections to find out his vision for members of the association.

Qtn: What is your vision for the association?

Ans: My vision is to see AGI business members prosper as in in the Bible
"For I know the thoughts that I think toward you, saith the Lord, thoughts of peace, and not of evil, to give you an expected end"

Qtn: What do you bring on board?

Ans: I Understand the Ghanaian business environment and its challenges having worked with Coconut Grove Hotels, a member of Groupe Ndoum that has over 64 companies, in almost all sectors of our economy and

I would channel the difficulties of the Association members to the President to address with a sense of urgency.

I believe in a forensic approach to solving our problems by coming over to members and working together to overcome and or complement your works.

The solving of these problems will be of strategic nature that will ensure that our MEMBERS BUSINESSES become nationally known and successful and very globally competitive.
As a team player, I will give this council my very best to create a harmonious environment to solve our challenges.

Qtn: What do you hope to achieve by end of your tenure

Ans: By the end of the 2-years, we must see all our members being very profitable. With that success also, we hope to attract 500 new members to the AGI

We will want to see our member companies take commanding heights through the audacity of success in their various areas of trade, for instance; Agric, tourism, to mention just a few.

Qtn: What does winning the position mean to you?

Ans: It means that the 18 years that I have had the opportunity to be mentored, challenged and supported by Dr. & Mrs. Nduom has sharpened my skills and made me suitable to handle any position that I land myself in.
As the ultimate objective of my mentors, is to impact the economy of Ghana and beyond therefore coming together to create and establish Groupe Nduom,, so do I hope to contribute to transforming the economy positively with my skills acquired.

It is now time to impart knowledge acquired into AGI leadership and when implemented, Ghana will surely be the best place to do business in Africa.

It also means that the Coconut Grove Hotels brand and teamwork is a very strong one