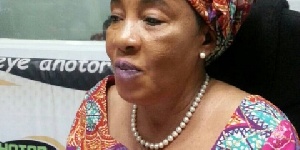 A national Vice Chairperson and a Former Women's Organizer of the National Democratic Congress (NDC), Madam Anita De Sosoo has stated that complacency took the NDC to opposition.
She made this remarks on Ahotor FM's morning Show with Emmanuel Quarshie on Friday 20th April 2017.

The exclusive interview was among other things to explain the party's rather embarrassing defeat.

She explains that 'the numerous infrastructure and other projects that were embarked upon by the Mahama led government were enough Basis to win us the election. ' she further added, ' This monumental interventions which were done by my party were visible for all to see.

They impacted lives in a tremendous way but complacency made us loose the election." she lamented

"Most people stayed home and were so confident of the NDC's win.' I as an individual' , she went on ' went to the Volta Region immediately after casting my poll for another party assignment because I was confident of our victory and hard work of the party" .
The defeat of the party according to the Vice Chairperson happened for a reason.

She believes that the NDC party will even work more harder for a comeback in 2020.

Madam De Sosoo, advised the party sympathizers and members to cooperate with the Kwesi Botchwey committee, the committee set up by the NDC party to go round the country and investigate reasons that led to the defeat of the party in the 2016 election.

She thanked the committee for their work and stated that they are almost done with their findings and are yet to meet the party's Council of Elders, the Former Presidents, H.E Jerry John Rawlings and John Dramani Mahama for their views.

Madam Anita reiterated that the members of his party should be extra vigilant and work hard for a great comeback.
She advised her fellow party leaders to adopt a party branch and support grass root members even to the extent of paying them money and providing food for them .

She called for unity amongst the party members and stated that all members should adopt an all hands on deck approach to help build the NDC party for a greater comeback.

She concluded that there will be a thank you tour by the party executives and the former president in the coming days.