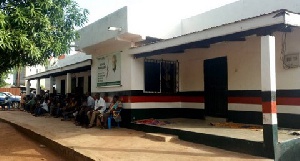 Confusion has rocked the opposition National Democratic Congress (NDC) in the Northern Region over purported mass disqualification of party members who were vetted for various constituency positions in the region.
Some party members who were disqualified during the vetting process on Sunday registered their displeasure over what they described as 'unfair treatment' by the committee constituted to vet the aspirants.

About 40 aspirants have been disqualified since the process began last Friday in the Northern Region.

The committee include the current regional chairman of the party, Sofo Azorka; director of elections, Rashid Tanko Computer and Alhaji Friday.

One of the aspirants, Abass, told DAILY GUIDE that he was disqualified on the grounds that he insulted the regional chairman on national television.

He however, denied the allegation and said he sent a Quran to Mr Sofo Azorka and asked him to swear that he (aspirant) ever insulted him on television.

"Azorka said I insulted him on television and for that matter, I am disqualified so I opened my bag and brought out a Quran for him to swear on it but he refused," Mr Abass claimed.
According to him, he was not leaving the issue like that and that he was talking to his lawyers to seek justice at the law court.

A former Youth Employment Agency (YEA) coordinator for the Savelugu municipality, Nashiru, said he was disqualified because he refused to allocate some appointments to the constituency and regional chairmen during the party's regime.



The affected victims of the mass disqualification mobbed the director of elections, Rashid Tanko Computer, at the party's office and vowed to work against it in 2020.

They indicated that they were committed communicators for the party, even in opposition, and vowed that they would work against the party, once they were being treated as strangers.

Rashid Tanko Computer pleaded with the aggrieved members to exercise restraint as the party tried to resolve the impasse.
Some bigwigs of the NDC in the region have noted that the ongoing mass disqualification of some aspirants at the constituency level would rather do more harm to the party than good.

According to them, the party is currently trying to unite the hierarchy and the grassroots and that it would be suicidal to create more problems at the constituency level.

When DAILY GUIDE contacted Mr Sofo Azorka, he denied all the allegations leveled against him and said most of the aspirants were disqualified because they flouted the rules and regulations of the party.

According to him, most of the disqualified aspirants campaigned for independent candidates during the 2016 elections – which is not allowed in the party.

He appealed to all the disqualified aspirants to do their homework well and try again next time.