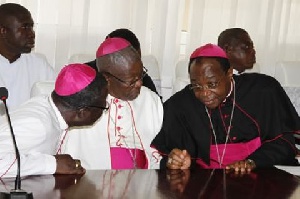 The Ghana Catholic Bishops' Conference has bemoaned the spiraling level of bribery and corruption in Ghana.
The religious leaders lamented the deafening silence in tackling the canker which they believe is denting Ghana's image globally.

The Conference described the high rate of corruption in Ghana's society as "cancerous", adding it is "unacceptable."

Fighting corruption was one of the key campaign messages of the New Patriotic Party when it was in opposition. A Special Prosecutor's Bill has just been passed by Parliament to prosecute public officials who defraud the state.

"Our previous directives on this issue seem to yield no positive result," the Ghana Catholic Bishops said in a communiqué after their annual Plenary Assembly in Ho, Volta region.

"We reiterate that corruption in every facet of Ghanaian life is not only perceived but very rife. This is unacceptable and must be dealt with at all times and at all levels of human endeavour.
"Since corruption is cancerous to the life and vitality of our nation, we call on every Ghanaian – individuals, Government agencies, service providers, public and civil servants – to stand up and to defend the cause of justice, probity and accountability.

"Ghana must lead and live the crusade against corruption," the communique added.

Also, the Bishops called on traditional leaders to help preserve the nation's culture.

"Our culture defines and shapes our destiny. We have observed how some religious leaders and their followers show complete disregard for some of our cultural values and customs through the use of demeaning words on radio, television and in their churches.

"We caution all who engage in such conduct and urge them to show due respect and positive regard to our traditional rulers, values, and customs. We, however, reject traditional customs that dehumanize the dignity and well-being of the human person," the communique stated.