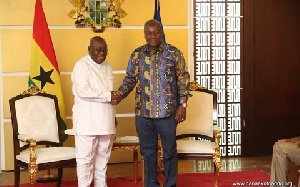 The level of corruption that took place under Mr John Mahama's administration was massive relative to what is happening in the Akufo-Addo administration, political science lecturer at the Kwame Nkrumah University of Science and Technology (KNUST), Dr Kwesi Amakye, has said.
According to him, even though Mr Mahama supervised massive corruption during his presidency relative to that of Nana Akufo-Addo, the current administration appears to be white-washing every appointee alleged to have acted corruptly.

In that regard, Mr Amakye says the main opposition National Democratic Congress' Clearing Agent tag slapped on President Nana Akufo-Addo vis-à-vis his serial clearance of his appointees alleged to have been involved in corruption under his watch, has evidential basis.

Some of the appointees cited for alleged corruption but later cleared by President Akufo-Addo include Trade Minister Alan Kyerematen (Cash-for-Seat saga); Alfred Obeng Boateng, MD of the Bulk Oil Storage and Transportation Company Limited (BOST), who was accused of wrongdoing in two sales of crude oil; as well as the two Deputy Chiefs of Staff, Samuel Abu Jinapor and Francis Asenso-Boakye, who were accused by musician A-Plus of indulging in corrupt acts in connection with a revenue-collection deal at the Korle-Bu Teaching Hospital.

Dr Amakye told Moro Awudu on Class91.3FM's Executive Breakfast Show on Monday, 21 May 2018 that: "Nana Addo has not really delivered on many of his promises … it is the same corruption issues – the difference I point to is the magnitude, the amounts involved tend to be bigger under president Mahama's watch and some people in the NDC fraternity have charaterised him [Nana Akufo-Addo] as a 'Clearing Agent'. To some extent, yes, 'They've done nothing wrong', 'they've done nothing wrong', everybody is cleared. So, definitely, the same challenge is here today".

In his view, however, should Mr Mahama decide to run for re-election, President Nana Akufo-Addo will beat him, since his relatively worse corruption legacy will haunt him.
"Huge amounts of money went out, I'm personally very disappointed that he [Mahama] couldn't brand Ghana with rLG mobile phones, laptops, under his watch. What has been going on? So institutional renewal. Can't we get some new person to inject in a fresh idea and stuff like that? … They are not seeing that today. I think that that ticket is going to have a challenge.



"The issue is that political parties are there to win elections, I don't think they have any other objective, especially in a presidential system like ours, possibly in a parliamentary system they can go into a coalition, but ours is a winner-takes-all. What are the chances, assuming Nana Addo Dankwa [Akufo-Addo] – in spite of his age and because of which I don't think he should stand. [Age] is not just a number, medical doctors will tell you that it affects your ability to think, political scientists will tell you age is a factor, you should be able to yourself read documents and then come to the understanding that you are the foremost individual, age is a major issue, it is, but given that I don't think president Mahama will be able to do better than Nana Addo Dankwa Akufo-Addo in 2020 if the two of them stand", he said.

"That notwithstanding, people think that the economy appears to be doing better. I have an issue with that. If we take money from outside, inject into the local economy, you don't see any massive change in the extractive capacity of the state, temporarily, you cannot conclude that the economy is doing better. I don't have to be an economist to come to this understanding. But that notwithstanding, the issue is that president Mahama is going have a real challenge to come out in 2020. …In the position of the NDC, I will not support president Mahama's ticket", Dr Amakye emphasised.