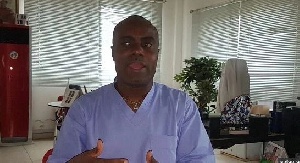 An Accra Circuit Court has ordered the Medical Director of the Accra Regional Hospital, formerly Ridge Hospital to produce the embattled CEO of Obengfo hospital, Dr. Dominic Obeng-Andoh in court.
Dr. Obeng-Andoh has been charged with murder for the death of the deputy CEO of National Entrepreneurship Innovative Programme together with one another who is facing charges of impersonation.

They have both been remanded in police custody, but Dr Obeng Andoh's deteriorating health has resulted in him being admitted at the Ridge Hospital.

Dr Obeng-Andoh is also facing two separate charges of practicing medicine without lawful authority and operating an unlicensed health facility.

When the case was called before Her Honour Mrs Janet Naa Adjeley Quaye on Tuesday, the hospital in a letter titled to 'whom it May Concern' said the accused could not be released to appear in court without the assistance of a physician.
Prosecution led by DSP Stephen Adjei prayed the court for an order directed at the Medical Director of the Hospital through the administrator to produce the accused at the next adjourned date.

Daily Heritage's Court Correspondent Muntalla Inusah who was in court said the sitting judge Mrs Adjeley Quaye granted the application and adjourned the matter to Friday, June 8.