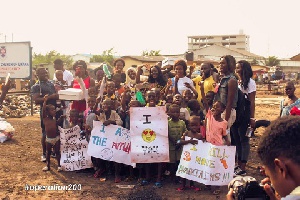 Thu, 15 Feb 2018 Source: Nii Adjei Mensahfio
The Dameh's Foundation yesterday, 14th February, 2018 embarked on a project dubbed "operation200" to mark this year's Valentine's Day.
The project which was aimed at spreading the love of Val's Day to our street kids and people living in destitute areas saw the founder and CEO Miss Dorcas Dameh with her team hit some streets and slums within Accra distributing chocolates and other items such as chalewote (locally manufactured slippers), wears, shoes and more. Places that were visited include Adabraka Sahara Park, Odawna, Agbogbloshie, Graphic Road and its environs.

The exercise also saw in attendance the 2017 GIJ SRC Women's Commissioner, Miss Justina Odoi and Miss Ellalina Kyerewaa the 2017 winner of Miss Obaasima of Accra Technical University.
Miss Dorcas Dameh is a 2nd year student of the Ghana Institute of Journalism and the winner of 2017 GIJ Miss Communicator opined that #opeartion200 is one of several charity projects she has embarked on since being crowned GIJ Miss Communicator.
Source: Nii Adjei Mensahfio