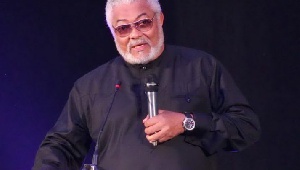 Former President Jerry John Rawlings has criticised individuals who describe the June 4 uprising and the 31st December revolution as coup d'états insisting it was an opportunity for Ghanaians to demand their rights.
"The records are there for our young ones to study and appreciate but the history writers have always thought it convenient to distort the facts to suit their elitist and so-called highly educated leanings.

"So the June 4 uprising and the 31st December revolution which were borne out of a state of uncontrolled corruption, wretchedness and gloom has often been described as a coup d'état by a group of characters who ought to know better; a great affront to the millions of Ghanaians who rose in unison to denounce the monopoly of a select few who thought the right to rule was their birth right," Mr Rawlings said in a speech to mark the 36th anniversary of the 31st December 1981 revolution.

This year's celebration was held at Ho in the Volta region on Sunday morning on the theme: "Uniting Around the Principles of Probity, Accountability and Social Justice."

Mr Rawlings insists the same group of people misinforming the public about events of the revolution and "their puppets oversaw an economy that retrogressively provided limited opportunities for an increasing population".

He added that: "The price of goods and services were escalating in an unprecedented manner by 1981. The economic indicators were all negative at the time.


"For those who have forgotten and have a veneer obscuring their view, corruption had its own local terminology -'Kalabule'. In 1982 at the advent of the revolution, Ghanaians had to queue for essential commodities such as bread and maize in order to make ends meet. This did not break down the resolve of the people".

He explained that the young and able-bodied ones, mostly drawn from the universities travelled to the hinterlands to help cart cocoa on trucks and trains to the ports for export.

"The desire to die for mother Ghana was the driving force behind the revolution. It was a re-birth of the spirit of patriotism – the love of one's country," he said.

He was of the view that: "The economy recovered significantly over the ten-year period from 1982 to 1992 when we established constitutional rule after a decade of grassroots democracy never before experienced in the country. The Economic Recovery Programme, the Structural Adjustment Programme, the Financial Adjustment Programme and the introduction of the Value Added Tax were tough but bold decisions taken to tighten our belts while offering the country the much-needed turnaround in economic and infrastructural development".