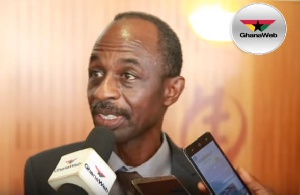 The opposition National Democratic Congress (NDC) has suspended three constituency executives in the Greater Accra Region who blamed some national executives for the party's defeat in the 2016 elections.
The affected persons are Emmanuel Ashalley Tetteh, Communications Officer, Klottey Korle; Kodzo Keglo Hamenya, Secretary, Okaikoi North; and Stephen Afutu, Communications Officer, Okaikoi Central.

According to a statement signed by the party's General Secretary, Johnson Asiedu Nketia, the action by the three was contrary to the code of conduct and disciplinary code of the party (Articles 45 and 46).

The NDC has asked all aggrieved persons to report their concerns to the Kwesi Botchwey committee, set up to probe the factors for the party's loss, and desist from the blame game in the media.

It is recalled that the party's National Organiser, Mr Kofi Adams, recently sued Network Broadcasting Limited, operators of Accra-based Radio Gold and four members of the party jointly and severally for making defamatory comments against him as far as the party's 2016 electioneering was concerned.

The four, all belonging to a group called Action Movement include the three who have been suspended by the party's national leadership and one James Deku, alias Agbee of West Legon.
At a press conference carried live on Radio Gold in March, they described Mr Adams as a "useless National Organiser and Campaign Coordinator" who, together with other party stalwarts caused the NDC's defeat in the 2016 elections.

"All Kofi Adams knows is to steal money and cars and disrespect everybody," the group said, adding: "Our party must investigate Stan Dogbe, Dr Opuni, Omane Boamah, Felix Ofosu Kwakye and Kofi Adams. The campaign money that they have hidden must be collected from them immediately."

The group also said Mr Adams "brought no strategy into the 2016 elections; we have not seen any proactive skills directed towards winning the 2016 elections. His attention was only on what he can selfishly take away from the party. We want to know from JM the wisdom in making Kofi Adams the National Campaign Coordinator."

Mr Adams is praying the court for "an order for an unconditional retraction and an unqualified apology for the said defamatory statement/broadcast/publication, doing so separately and in the Daily Graphic newspaper, and for same to be given equal prominence as the complained statement/broadcast/publication within 14 days from the day of judgment."