General News Tue, 8 May 2018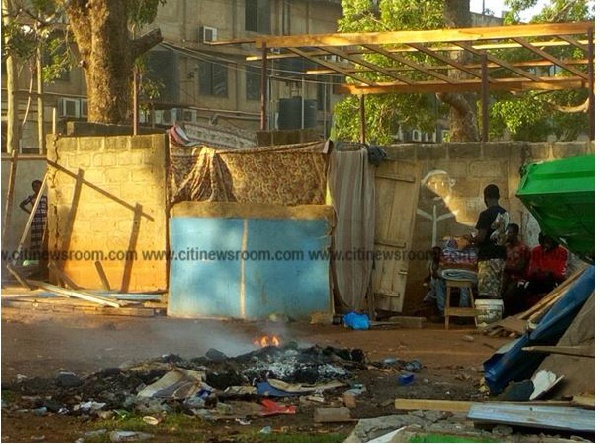 A day after a joint task-force of police and officials from the LaNkwantanangMadina Municipal Assembly (LANMA) demolished some illegal buildings around the Madina REDCO flat; the unperturbed affected residents have begun rebuilding their structures.
This is despite threats from the Assembly to arrest persons who attempt to rebuild the structures.

The demolition exercise took place in the early hours of Sunday morning and was an attempt by the Assembly to evict the squatters who are alleged to be engaging in some vices including prostitution, illicit drug use and robbery.

When Citi News visited the area at about 8:30 am on Monday, some young men were seen smoking and drinking at the site.

Most of the women who had set up there were head porters with children.

While some of the residents were salvaging what they could from the ruins, others had rebuilt their structures with concrete blocks and plywood covered with cloth and huge polythene bags.

The site has also become a business ground for some scrap dealers scavenging for metals and other materials out of the demolished structures.
It is also business as usual for some people, as they had set up their tables with food and alcohol on sale.

In an interaction with some of evictees, who say have been living there close to a decade, they lamented the actions of the authorities, and demanded compensation.

They said if this is not done for them, they will rebuild their structures, saying this is not the first time such an exercise has been carried out.

Others also claimed they pay monthly fees to the Assembly, legitimizing their presence there, and therefore do not know why the demolition was carried out.

Many also called on the Assembly to focus on curbing the hike in armed robbery incidents in the area instead of denying innocent people of their only sources of livelihood.

While some structures like churches and a wood merchants shop were not touched during the demolishing exercise, a public toilet, a wooden structure used as a salon, carpentry, mechanic and provision shops, among others were not spared.
Meanwhile, the PRO of the LA Nkwantanang Municipal Assembly, Isaac Odoom, in a phone interview said the exercise is not going to be one-off.

"We gave them enough notice; most of the containers have written notices on them, so if they complain that they were not aware it's never true. We had to demolish the place because it has become a nuisance to the community. A lot of residents come around to complain of the kind of activities going on around there, harassment of residents around, there are suspected criminals there, and some of the ladies engage in prostitution and it was creating a whole lot of problems for the municipality and so we had no other alternative than to demolish the place and make sure we get rid of such activities."

Listen to the full report below: