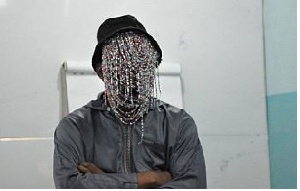 It has emerged the National Chief Imam, Sheikh Dr. Osmanu Nuhu Sharubutu, may have tried to persuade undercover Investigative Journalist, Anas Aremeyaw Anas, not to premiere 'Number Twelve', an exposé on corruption in football in Ghana.
Sports Journalist and former Spokesperson of the Hajj Committee, Mohammed Amin Lamptey, claims the head of the Muslim community in Ghana sought to impress on Anas Aremeyaw and his Tiger Eye team to shelve the exposé.

"As part of this Anas Aremeyaw exposé, I am putting it before you…we have this big man who wanted to meet Anas Aremeyaw Anas since it was an issue between two Muslims — if you like Kwesi Nyantakyi and Anas Aremeyaw Anas," he told Odiasempa Kwame Oware of Happy FM.

He claimed there was a meeting called by Sheikh Dr. Osmanu Nuhu Sharubutu between President of the Ghana Football Association, Kwesi Nyantakyi and Anas to impress on the journalist to drop the video, however, that meeting never happened.

According to Mr. Amin, the Chief Executive of Tiger Eye Private Investigative failed to show up at the meeting but sent emissaries to apologise to the Chief Imam.


World football governing body, FIFA, has since suspended President of the Ghana Football Association for 90 days following a petition by Anas.

"You can refer to my article [an article he said he wrote on the matter]. I did not mention the person's name. I upheld the name. I can tell you today that the National Chief Imam Osman Nuhu Sharabutu is that big man, as the leader of Muslims in this country. So Anas went ahead and showed the video and we all saw what happened," he said.

"The National Chief Imam told him. Kwesi, you are a Muslim, believe in Allah. I know what is going to happen to you is really, really tough. It's not going to be easy for you but Allah is in control. Don't worry. You don't worry; allow it to go. It will change at the end of the day," he added.

Meanwhile, Mr. Amin Lamptey said 'Number Twelve' cannot be regarded as an evidence of corruption in Ghanaian football.


"Nobody says that corruption in Ghana football is correct. But we are saying that you need to get people red-handed doing it and when you bring the evidence, nobody will ever raise an eyebrow. But we saw on the video, I mean the cut and paste," he said.

Mr. Amin Lamptey, a politician, contested the Ayawaso North parliamentary seat on the ticket of the National Democratic Congress but lost to Yussif Jajah in 2015.