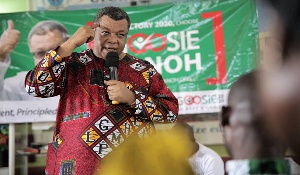 A flag bearer-aspirant of the opposition National Democratic Congress (NDC), Goosie Tanoh, has advised delegates of the party to reject any form of monetary inducement that seeks to influence them to vote for a particular candidate in the party's upcoming presidential primaries.
Mr. Tanoh, who is one of 12 aspirants, encouraged the delegates to critically examine the campaign messages of the various aspirants to enable them to make an informed decision on whom to lead the party and eventually Ghana.

Speaking to some delegates at Dodowa in the Shai-Osudoku district as part of his 5-day tour of the Greater Accra Region, Mr. Tanoh said he was the best candidate to lead the NDC.

"I want you to take your power seriously, think and don't follow blindly… If I give you GHS50 today, I've insulted you, so, don't allow yourselves to be insulted and don't allow yourselves to be purchased, slave trade ended several centuries ago.
"Let us think carefully because we have children and we want them to have a future. We have young people who are 'Okada' riders; if we want them to have a future, the only way we can do it is to think carefully about the choices we make.

"We have a choice to do the same things we did before or to change and do new things, so that tomorrow, when I come here again as your president because you voted for me, Shai-Osudoku will be also a possible example following the footsteps of Singapore. [Singapore is] 705 square kilometers, Shai-Osudoku is 933 square kilometers, so it is possible, don't ever believe it is impossible."