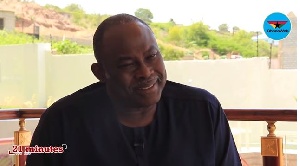 Dr Ekow Spio Garbrah, a flag-bearer hopeful of the opposition National Democratic Congress, says he has a good relationship with former President John Dramani Mahama.
He has therefore cautioned members of the NDC who may be supporting the call for the former President to contest in the party's flag-bearer race, to do so without creating a rift between them.

Speaking to Neil Armstrong-Mortagbe, Host of the Morning Xpress on Radio XYZ Wednesday, Dr Spio Garbrah noted he had worked with the former President in the Jerry Rawlings administration when both of them were Ministers before he later became a Minister in the Mahama Administration, adding that they have "an excellent relationship."

"…People would wish we were enemies and fighting and all that…but look, John Mahama was my Deputy when I was the Minister for Communications. This is someone I worked with everyday. Most of the people who think they love him have not worked with him everyday the way I did," he added.Although the former President has not declared any intention to contest in the race to lead the NDC, he has promised to announce his political future soon.

Mr Mahama announced to party faithfuls in the Upper East regional capital, Bolgatanga, after a Unity walk earlier this month that: "I have spoken to many people who have the interest of the party at heart. And sooner rather than later, I think very very soon, I will make my political future clear."

But Dr Spio-Garbrah who has declared his intention to pick forms and contest in the flag-bearer race, indicated that he has nothing against Mr Mahama.

"…After he (Mahama) became President, I was working in Tunis for the African Development Bank; he could have left me alone but he stretched his hand and said; 'Please, come and join me'. When I joined his cabinet, I was the only Minister from the Rawlings government who served in his cabinet, so he had a reason for having me there, knowing what I can contribute to Ghana and to his Government so please people shouldn't attempt to create unnecessary rifts where they don't exist," Dr Spio-Garbrah said.
The former Minister for Trades and Industry under the erstwhile NDC administration said his wish is to lead the NDC and not to be a running mate to John Mahama who is yet to declare whether or not he will lead the party ahead of the 2020 elections.

He said there may be some people who may wish to see John Mahama picking him as a running mate, but his wish differs from that.

"My desire, my wish, my ambition is to lead the NDC and to lead Ghana. If God approves it, then that is what is going to happen, if God doesn't approve it and he chooses him (Mahama) or anybody else, then all of us will support that person," he added.

Asked if he has a good relationship with the national executives of the NDC, Dr Spio-Garbrah said he could not fathom why it is being bandied about that he does not have a healthy relationship with the leadership of the party which he intends to lead.

"However you describe it, the leadership is not a static leadership: "We've had Chairmen of the party who have left; we've had General Secretaries of the party who have left. The founder is still there, the former Presidents, former Vice-Presidents who are alive… I have an excellent relationship with the entire structure of the party, from the top to the bottom," he revealed.

Dr Spio-Garbrah also dispelled rumours that he is not accessible in the party, saying his doors are always open for those who want to meet him.