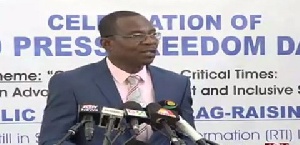 President of Ghana Journalists Association (GJA), Affail Monney, has bemoaned the practice whereby some journalists set to out to destroy genuine local entrepreneurs, saying the Association's code of ethics must always be adhered to.
In his estimation, the media performing its surveillance function makes it one of the most authoritative and powerful institution in the governance structure.

However, the GJA president cautioned journalists against abusing their rights by 'deliberating' targeting specific business for destruction under the guise of investigative journalism.

Mr. Monney was sharing his thoughts with Atinka FM in Accra yesterday, following a publication by the New Crusading Guide on concerns raised by Ghanaians over the attempt by some journalists to run down some local businesses and individuals.

"The business interests of some companies have been at the receiving end of a so-called investigative journalism with these companies' numerous legitimate contracts with government being under the spotlight. However, there have been some concerns in certain quarters that the supposed investigation of the companies could be abused by corrupt and greedy journalists who may be doing the bidding of rival companies as has become the case whenever there is a change of government," as reported by the New Crusading Guide.
The GJA boss sided with the report even though he quickly added that the media has the responsibility to expose corruption in the society including dodgy companies.

"It is our duty to ensure that what we present accurate and unbiased reportage. The media must continue to play its surveillance or watchdog role but must avoid the deliberate staining of reputation. One irresponsible act can destroy a reputation built over thousand years," he said.

Cautioning journalists, he said, "in an attempt to fight corruption, one should be very careful when dealing with genuine companies," cautioning that journalists must not allow themselves to be used by selfish interests to run down genuine businesses.