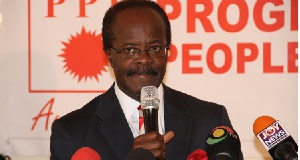 Bank of Ghana, BoG has responded to claims of Groupe Ndoum that the Central Bank decision to revoke the licence of GN savings & loans was inappropriate.
Deputy Director of Banking Supervision Department at BoG Elliot Amoako in an interview with Joy FM said depositors cannot be made to suffer due to wrong investment decisions made by GN savings and loans company.

Elliot Amoako also blames the state of GN savings and loans currently on overexposure to government business.

He also advised stakeholders to learn to separate the regulators work from government business.

"If it turns out to be true that government owes him and government has not paid and we have this storyline for quite a while now, well for us as a Central Bank we are dealing with the financial institution and the financial institution is required to be solvent to meet depositors demand, granted one of the risks the institution took was to fund government projects, let's say you are bank if you give your money to Mr X and he does not pay you back and for that reason your depositors are suffering is that the most prudent way to use your funds that is no excuse to the depositor, don't mix us with government we are not government we are to regulate the financial system..."

GN savings and loans reaction to licence revocation

GN Savings & Loans Limited has reacted to Bank of Ghana's decision to revoke the licence of the company. A statement signed by the Chairman and Chief Executive Officer of Groupe Nduom, Papa Kwesi Nduom said the claims by the Bank of Ghana for the revocation of their licence is "wildly inaccurate."
Nduom in the statement also stated that: "Neither shareholders nor management of GN Savings have received any official communication from the BoG regarding receivership."

"Our position is that GN Savings is not only solvent, but would be highly liquid if the MoF simply ordered itself and other government agencies to quickly pay amounts owed to GN Savings and other related entities. We expect this matter to be resolved in due course," the statement added.

Licence revocation

The Bank of Ghana revoked the licenses of some 23 Savings and Loans Companies and Financial Houses including GN Savings and Loans.

The Bank of Ghana in announcing the revocation of GN Savings and Loans' licence said: "GN's shareholders have failed to restore the bank to the required regulatory capital and liquidity levels in spite of long-standing promises that new capital was expected from foreign investors."

"While GN has indicated that government owes it a total amount of GH¢942.98 million of which GH¢102.73 million represented Interim Payment Certificates (IPCs), the Bank of Ghana's assessment is that IPCs totaling GH¢30.33 million only have been confirmed by the Ministry of Finance as at 6th August 2019 as owed to contractors that may be indebted to affiliates of GN," the Bank of Ghana said.