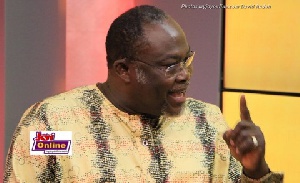 Delegates of the opposition National Democratic Congress (NDC) have been asked by Dr. Ekwow Spio-Garbrah not waste their votes by election a candidate who is only going run for a term in office.
The party he said must elect a fresh candidate who will lead them to victory 2020 and beyond.

According to him, it would be disastrous for the party to elect a candidate who was defeated massively by the ruling New Patriotic Party (NPP) in 2016 despite having everything at his disposal.

'We don't have to elect a candidate who will only spend a term in office. When that happens, the resources and energy invested would go waste. We need a candidate who will be able to run two full terms. We need a candidate who can help both the party and the nation in general.''

Although he did not mention the name of the candidate, it was clear he was referring former President John Daramani Mahama who was defeated by President Akufo-Addo in the 2016 presidential race.
When asked if he fears delegates, he said, ''I fear delegates but I also respect them and I pray they will vote massively for me come February 23, 2019.

He prayed to God to open the eyes of delegates so they will vote for him because he is the only candidate who can defeat the NPP and clinch victory for the umbrella family.

President Nana Addo Dankwa Akufo-Addo was declared Ghana's 5th President of the Fourth Republic after an impressive performance in the 2016 presidential poll.

The three-time lucky NPP leader polled 5,716,026 to beat former President John Mahama who had 4,713, 277 Electoral Commission Chairperson, Charlotte Osei announced Friday evening.