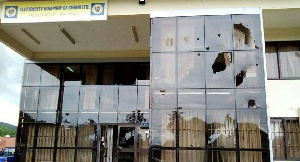 The Management of the Electricity Company of Ghana, has resolved to resume work at Somanya after weeks of withdrawing their services from the area following a violent attack on their office.
The decision was taken after management of ECG met with the Traditional leaders of Manya Klo led by Nene Sakite II, Konor of Manya Klo Traditional Area, a delegation from the Municipal Assembly led by Hon. Simon Kweku Tetteh, MCE for Lower Manya Krobo Municipal Assembly, Assembly Members, Youth groups Executives, Executives from the Municipal Local Council of Churches, Opinion Leaders, Stakeholders in the Municipality and consumers at the forecourt of the Palace of Nene Sakite II on Monday.

The parties discussed the way forward to resolve the high tension situation between the Natives of the Kroboland and ECG.

Staff of ECG withdrew their services from Somanya and its environs following violent attacks on its office which led to destruction of properties. The irate youth took the action over what they described as exorbitant electricity bills in the area.
The youth subsequently turned their anger at the police and vandalized the Somanya Police station.

12 persons arrested in connection with the riot are facing trial at the Koforidua circuit Court.