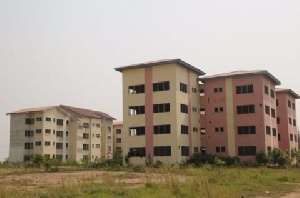 The Economic and Organized Crime Office (EOCO) and the Criminal Investigative Department(CID) of the Police Service have begun investigations into the allegations of corruption at the State Housing Corporation leading to the loss of millions of Ghana Cedis to the State.
Two former Managing Directors of the SHC [Mark Ankrah, Samuel Sarpong]who allegedly superintended over the rot that has rocked the State Housing Corporation during their tenure are expected to appear before the CID, EOCO for questioning.

Per the 300-page audit report in the possession of Kasapafmonline.com uncovered that an estimated amount of Gh¢10 million was lost in revenue "as a result of valuations not based on market values" of sold properties.

The draft report said the previous management failed to do due diligence in the leasing of four plots of land at North Labone Estate.

The audit, which started in January 2014 and ended in August 2017 by the Internal Audit agency, identified that three properties numbered 28, 29 and 30 were offered to Keyport Realty for Gh¢830,984.00 while another tagged 27 was offered to Gwakunda Engineering Limited for Gh¢258, 230.00 making a total of Gh¢1,089,214.

The audit uncovered that the properties leased to Gwakunda had an average market price of $750, 000 (Gh¢3 million) but was offered at Gh¢258, 230 leading to an estimated revenue loss of Gh¢2,741,770.

Also, the three properties leased to Keyport Realty had an average market price of $750, 000 (Gh¢3m) each but were offered at Gh¢283,037 (Gh¢7.7m estimated revenue loss), Gh¢263,947 (Gh¢2.7m estimated revenue loss) and Gh¢284,000 (Gh¢2.7m estimated revenue loss).
"A total of Gh¢10,910,786 is the estimated loss in revenue as a result of valuations not based on market values of the properties," the audit report established.

"We, however, observed that SHC has no documented procedures in determining market values of properties before leasing to new lessees. The process of approval for sale, basis of valuations and vetting of bills on which the properties were leased to Keypot Realty and Gwakunda Engineering Limited were therefore not made available to the audit team," the report stated.

The auditors have recommended that: "Management should ensure that a well-documented property valuation procedure is established to determine market values of properties to be leased to new lessees."

It has also recommended to the new management to "obtain appropriate legal advise on the leasing of the affected property for possible renegotiation of the value to reflect current market price."

Management, the audit report said, should also seek legal advice on the "breach of Section 203 of the Companies Code for appropriate legal sanctions to be taken against officers involved in the lease of the affected property."