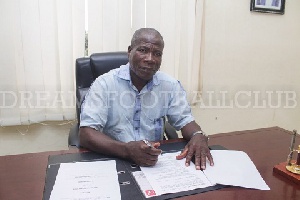 Former Liberty Professionals shot-stopper Patrick Antwi has taken a swipe at former goalkeeper's trainer of the national team, Edward Ansah, saying he was the reason why his Black Stars chances hit a snag.
Antwi playing his first game for the Black Stars after coming on for Richard Kingston committed a blunder which subsequently led to the team's defeat to Mexico.

Mexico beat Ghana 2-1 at the Craven Cottage back in 2008 in a friendly game.

The Black Stars leading by a 55th minute Michael Essien goal were pegged back by the Mexicans when Antwi failed to clear Essien's back pass allowing Carlos Salcido to score the equalizer in the 77th minute before Pardo secured the match-winner from a spot-kick.

Antwi sharing his thought on the said game apportioned blames to Edward Ansah whom he thinks did not help him settle well with the Black Stars.
In an interview with Angel FM in Kumasi, he said, "After the game I developed some hatred for the goalkeeper's trainer. I realized that he is not a good coach because being the goalkeeper's trainer he should have told me my mistakes"

"He rather blamed me in a sense that he gets angry whenever he sees me which was very bad. Edward Ansah never tried because he was once a goalkeeper and committed such blunders more than me"

"I respected him but right after game I advised myself," he told Angel FM in Kumasi