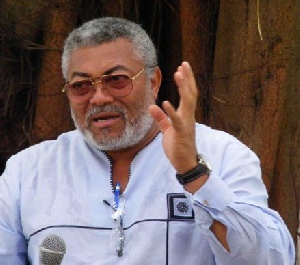 Former President and founder of the National Democratic Congress (NDC) Jerry John Rawlings has entreated delegates participating in the party's regional elections to elect executives who will be committed to the ideals of the party.
The NDC will be electing its regional executives on Saturday, September 1.

In a short statement Thursday, the first President under the fourth republic described the weekend's exercise as critical to the "consolidation and re-invigoration" of the party.

"The outcome of these conferences will go a long way in determining the future direction of the party. To ensure the consolidation and re-invigoration of our party, I urge delegates to listen to their constituents and elect persons of integrity who genuinely have the party at heart," he stated.
Bemoaning how monetization of the party's internal elections in recent past contributed to its shambolic showing in the 2016 general elections, former President Rawlings further charged the delegates to "resist the influence of money and material inducements from those who are more interested in themselves and their selfish interests than in building a strong and effective party."

"The rank and file must take the destiny of the party into their own hands and reject those whose conduct and lack of genuine commitment have contributed to the weakening of the party," he stressed.