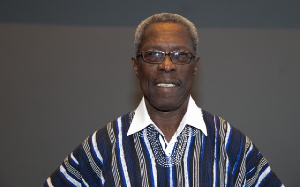 Dr Tony Aidoo has said he has "no opinion" on who should lead the main opposition National Democratic Congress (NDC) in the 2020 elections.
"Everybody in the NDC deserves the chance to contest," he told 3FM in a recent interview, adding: "If the delegates decide he [Former President John Mahama] should contest, so be it. I have no opinion on this."

According to Ghana's former Ambassador to the Netherlands, "I don't know what is contained in the Kwesi Botchwey report. I don't know the facts that were found. I don't know what recommendations were made. It will be premature to answer this question."

Meanwhile, Dr Aidoo has said the Mahama administration and the National Democratic Congress (NDC) "failed the accountability test" in the run-up to the 2016 general elections, a situation he blames for the party's loss.

He said the Mahama administration and the NDC as a party, flopped communication-wise to parry corruption allegations hurled against them by the then-opposition New Patriotic Party (NPP).

"The 2016 electoral campaign was one of pitching communication against communication," Dr Aidoo said, adding that: "Unfortunately for the NDC, the NPP propaganda machinery was much more effective."
"That machinery has been in operation for more than four years damning you [Mahama administration] for being corrupt and so on and so forth," he noted, observing that: "The numerous scandalous cases – GYEEDA, SADA and so on did not augur well for the Mahama administration."

In his estimation, rather than the Mahama administration always being on the defensive, it should have counter-attacked with facts to neutralise the attacks, an advice he said he gave to then-Chief of Staff Julius Debrah.

"I did discuss this with the Chief of Staff and I said the NPP has pushed you to the position at which you are always on the defensive, it's time you started counter-attacking," adding that: "If I had been in charge, I would have published the bill of quantities for the public to see rather than relying on the idea that parliament approved these projects."

"…They were challenging you on facts so you respond with facts…In effect, we failed the accountability test", he added. Asked if the NDC caused its own defeat, he responded, "I suppose so".