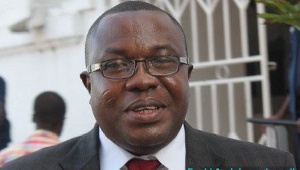 Mr. Samuel Ofosu-Ampofo the Vice Chairman of the opposition National Democratic Congress (NDC) has stated that parliament of Ghana should enact laws that will bind successive presidents to live in the designated resident assigned to them.
According to him this will compel them to use the presidential resident and curtail the temptation of them spending huge amounts in renovating their private homes which eventually becomes their personal properties after their term in office.

Ofosu-Ampofo made this in wake of President Nana Addo's Nima residence and the eviction of traders and artisans living close to the residence.

Speaking on Ahotor FM's morning show on March 15, the Vice Chairman reiterated that this will reduce extra funds spend on renovating personal homes of the presidents that will prefer living in their private homes to the flagstaff house.

"This development has made Ghana a laughing stock by the international community and it is most unfortunate. The state's rights confirmed on the president must compel him to live and work in the presidential resident as done in other countries"
"All successive presidents who have not stayed in the presidential residence have caused financial lose to the state through their actions and Nana Akufo-Addo is in the process of causing financial lose to the state through his action" He stated.

Traders and residents living around President Akufo-Addo's Nima residence have started packing out of their structures after being asked to leave.

The artisans and residents were engaged by National Security today to pack out of their structures since the area around the first gentleman's residence is now a security zone.

Ofosu-Ampofo urged the government to get experts to organize a security swoop at the flagstaff house so it can be habitable by the president if there are security lapses.