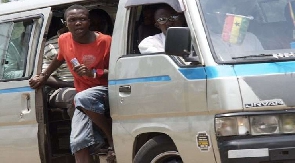 As part of measures to control the spread of the COVID-19 pandemic, the President of Ghana, Nana Akuffo-Addo upon consultation with stakeholders directed commercial vehicles to half their passengers.
The call came after Health experts urged all to keep a distance of at least two meters from a person with fever, cough, sneezing, and difficulty breathing to prevent others from contracting the virus.

The Ghana Private Road Transport Union (GPRTU) has called on the Transport Ministry and the government to put an end to the social distancing policy in commercial vehicles.

According to them, reducing their passengers to half the normal number and the increase in fuel prices has cost their drivers and car owners a lot of money.

Vice-Chair of the GPRTU, Robert Sabbah in an interview on Happy 98.9 FM's happy Morning Show with host, Samuel Eshun stated, "We want to go back to taking the number of passengers we used to prior to COVID-19 and make our sales. We have lost money because of the social distancing policy in our cars and our drivers are also complaining."
Robert Sabbah revealed that the union has presented a comprehensive proposal to the Ministry of Transport on the matter and are expecting a response to it soon. He believes the ministry will heed to their request.

He went on to assure commercial transport users that should they revert to their old system, they will make sure passenger and drivers adhere to strict COVID-19 preventive etiquettes. "We will disinfect our buses and ensure general safety on them."

The call by commercial transport owners and drivers to revert to their old ways of doing business has been prompted not only because of the loss of revenue but also because of reports indicating that consumers of petroleum products may pay more for fuel at the pumps following an increment in the BOST margin by the National Petroleum Authority (NPA) from 3 pesewas to 6 pesewas.