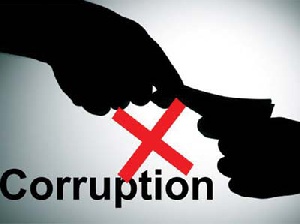 The Africa Youth Panel (AYP) has called for the engagement of the youth in efforts at curbing corruption as they are generally more open to social change and political transformation.
Madam Jawol Vera Magan, Chairperson of the AYP, who made the call in a statement issued in Tamale, said it is important that young people recognize that good governance could only be attained if corruption is addressed.

The statement, therefore, emphasized the need for conscious efforts to help the youth to understand the rules of governance such as accountability, transparency and integrity, which were key in the fight against corruption.

The Chairperson of the AYP issued the press statement to commemorate this year's Africa Youth Day, (November 01), which is a day set aside by the African Union Commission to promote the increased recognition of youth as key agents for social change, economic growth and sustainable development in all areas of African society.

The Africa Youth Day is also an occasion to celebrate the youth on the continent, and an opportunity to contribute and channel youth motivation, energy and creativity towards political, social and economic renewal.

This year's celebration is being held under the theme: "Raising Youth Voices Against Corruption in Africa".

The statement expressed the need to inculcate the principles of accountability, transparency and integrity in the youth to ensure that they grow up to be honest future leaders.
It said "it behoves anti-corruption agencies and civil society organizations to step up their efforts in developing and implementing innovative youth engaging interventions, which create relevant opportunities and safe spaces for young people to understand corruption, speak out against it and guard each other against it."

It said "the need to involve, inform and educate young people about benefits of integrity, transparency and good governance can make a significant difference in the shaping of future societies and the balance of power within them."

The statement said "the youth are an important partner in the fight against corruption because as they develop into adults, they carry with them the values they learn in their youth and will provide the next generation of leaders."

It called on the youth of the continent "to participate in choosing sincere leaders in their countries, leaders who have good governance and development of their countries at heart. African governments must endeavor to involve young persons in both formulation and implementation of policies and interventions against corruption."

It said "The first step we have to take as young peoples to fight against corruption at our personal level is by having a strong conviction to do the right thing and displaying integrity. We have the duty to persuade our friends, relatives and parents to reject corruption in all forms at all cost."

It said "as young people, we are fortunate to have good exposure to the internet and social media. Let us use these platforms to learn more about corruption and share ideas on how to prevent and fight against it. We possess enormous abilities to mobilize our peers, and if there is any better time to mobilize for any cause, it is now and it should be against corruption."