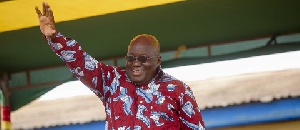 President Nana Akufo Addo has said his administration will ensure that electricity is extended to all parts of the country before his first term of office ends in 2020.
Addressing a rally held in his honour at Lawra in the Upper West Region, the President indicated that over 100 communities in the region have been selected to benefit from an electricity extension programme next year.
"The three regions up north are the most disadvataged when it comes to electricity coverage and access is concerned. This year and next year 2018, 106 communities in the Upper West are going to be connected to the national grid. And the pledge that I've given is that by the end of my first term in office, there'll be universal access to elctricity all across Ghana." The President leaves for the Upper East Region Wednesday morning as he continues with his tour of the three regions up north of the country.