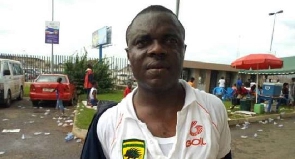 Asante Kotoko Deputy Accra Representative, Nana Kwame Dankwah, has avoided the invitation to apportion blame over the $240,000 fine imposed on the club by world football governing body, FIFA.
The Porcupine Warriors have been ordered to pay the said amount to Tunisian giants Esperance for the illegal transfer of their striker Emmanuel Clottey in 2015.

Failure to do so by the deadline which is May 17, 2020, Kotoko will be handed a transfer ban.

Following the ruling, many have linked the issue to the absence of proper administrative structures at the club.
"This is something we can discuss some other time. We just don't want to blame anybody. Let us resolve the issue," Nana Kwame told Joy FM.

"After that, we believe, something can be learnt out of this. Definitely, we will have someone to blame but we don't think that will be helpful now. Let us resolve the issue with FIFA. We are not in a position to put the blame, anyone. Let us resolve the matter. When it is resolved, we can look forward to stopping some of these things."