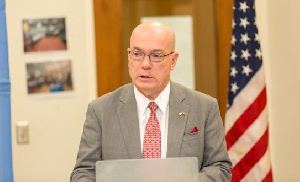 US Ambassador Robert Porter Jackson has called on Ghanaians to be a little more patient with the government as it prepares to fight against corruption.
Mr Jackson said he is confident the current government led by President Nana Addo Dankwa AKufo-Addo will tackle the canker head-on. "I am aware that investigations are ongoing," he revealed.

The US Ambassador made the revelation in an interview with Media General's Alfred Ocansey on Tuesday. He said there has been cooperation between the government and its US counterpart "and I feel optimistic that this is moving in the right direction".

Mr Jackson said Ghana has the laws to tackle corruption but enforcement has been the challenge. He therefore called for stiffer legislations like the Right to Information Bill to be passed.

"I am hopeful that in this Parliament, before it rises, we will see both of those bills. I think that will be proof that there is serious commitment."

Special Prosecutor's Bill He observed that the current government has shown commitment in fighting the canker, so far, with statements made.

But he asked for more time for the government. "I would like to see the words translated into deeds and I believe that we will do that.
So, let's give the government a little more time. They haven't been in office a year yet and it is important to pass things like the Special Prosecutor's Bill.

"But it is also important that they be done correctly. So that when we have the legislation, it can be used to the fullest advantage."

Though the Special Prosecutor's Bill has been passed into law – an indication of a bold step to fighting corruption – many people think the head to be appointed may be partial.

Mr Jackson shares similar fears but wants more "latitude" given to the appointee. "It really depends on who is appointed to be Special Prosecutor and how much latitude that person has," he pointed out.

"I don't want to prejudge the outcome. I do believe the president, the vice president [and] others are sincere of their desire to change the conversation in Ghana."