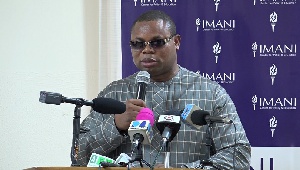 President of IMANI Africa, Franklin Cudjoe has accused the Akufo-Addo government of failing to fight the problem of corruption which has become a hydra monster in the country, as promised in their 2016 manifesto.
According to him, the NPP government blamed the Mahama-led administration for being corrupt to the extent of rewarding corrupt officials and yet, is exhibiting the same traits.

Making his submission on CITI TV's 'Big Issues' on Saturday, December 7, 2019, Franklin Cudjoe said " I know this government suggested in their manifesto that they were going to work on these acts of stealing money etc. in fact, they were empathic that under the NDC, that was the norm and to the extent that sometimes persons who are found culpable are rewarded at the presidency but it has not changed".

He furthered that "the nature of our constitution, in fact, our democracy clearly makes it very easy for incidence of corruption because it is a very politically structured leviathan some sort of monstrosity that is embedded in our political structures, it makes it very easy" for people to be corrupt.

He also argued that there's been quite a number of reported scandals as well as procurement breaches that have not been actively worked upon and as long as these things continue to happen, Ghanaians will constantly speak against such actions.

Franklin Cudjoe's comment comes on the back of the recently released Afrobarometer report which highlighted the rise in corruption.


The Afrobarometer team in Ghana, led by the Ghana Center for Democratic Development (CDD-Ghana) reported that more than half of Ghanaians say the level of corruption in the country has increased and government is doing a poor job in fighting it.

Approval ratings for the government's anti-corruption efforts have declined sharply, adding that GHC 9.6 billion has been lost from the public purse as a result of corrupt practices in the country since 2017.

The police, judges and magistrates, Members of Parliament, civil servants, and tax officials among key public officials in Ghana were most widely perceived as corrupt.

Speaking at a ceremony to premiere an anti-corruption documentary by the center's Corruption Watch initiative, the Executive Director of CDD, Professor Henry Kwasi Prempeh, said "weak governance and corruption hurt every nation, and the poor are often the hardest hit. Over the years, Ghana has lost a great fortune to corruption, and since its inception in November 2017, Corruption Watch alone has discovered 9.6 billion Ghana cedis stolen from the public purse. Everyone here – every individual and every organization has an obligation to act with integrity, expose corrupt practices, and more importantly, help retrieve funds that have been embezzled."

Referencing recent Afrobarometer data, he said Ghanaians want corrupt officials prosecuted and if found guilty, jailed and forced to return stolen funds, which should be used to build a public facility with the culprit's name inscribed on it.