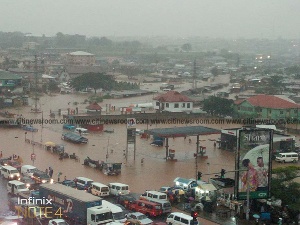 Seven people, including three young girls, drowned in Kumasi on Thursday evening during a heavy downpour at Asabi junction andAboabo.
Five of the girls were swept away by flood waters at Asabi in the Asokore Mampong Municipality, a suburb of Kumasi, after the River Sissa, which had overflowed its banks, entered their residence.

Two school boys were also reported dead at Saaba and Aboabo all in the Asokore Mampong Municipality as the results of that catastrophe.

Commuters and other road users were left stranded after an hour of heavy rainfall in the Ashanti Regional capital, Kumasi.

Major affected areas included Sawaba, Aboabo, Anloga, Kwadaso, Tafo Sepe Boukrom, Airport- roundabout and Asabi have been flooded, with a number of houses submerged following the downpour.
Many residents of these areas have been displaced as properties valued at several millions of Ghana cedis were destroyed.

Some passengers had to alight from the vehicles they were in to walk through the flood waters in order to get to their homes.

Other commuters are waiting for the flood waters to recede before they can continue the journey to their homes.

A downpour two weeks ago across the country resulted in the deaths of 10 people, with Accra the hardest hit city.