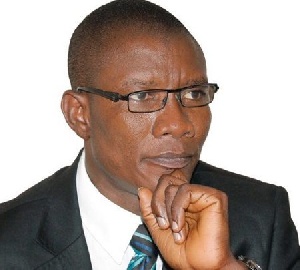 Mr. Isaac Ashai Odamtten, former Chief Executive, Tema Metropolitan Assembly, will contest the National Democratic Congress'(NDC) Tema East parliamentary primaries slated for August 24 2019.
The former mayor stormed the Tema East Constituency office of the opposition National Democratic Congress (NDC) with Mr. Kempis Ofosu Ware, former NDC Parliamentary candidate, Tema East, to pick the nomination forms on Friday afternoon.

Addressing the media, Mr. Isaac Ashai Odamtten, noted that it was time the NDC recaptured power from the ruling New Patriotic Party (NPP).

According to him, the NDC was the party to save Ghanaians from the current economic hardship.

The former Tema Mayor said his partnership with Mr Kempis Ofosu Ware, was a sign of unity in the party at the Tema East Constituency.

He explained that, most developmental projects in Tema were realised under the NDC government and during his tenure as the mayor for Tema, the Metropolis saw tremendous transformation.
"I am here to tell everyone that I will contest and represent Tema East in Parliament," he noted.

Mr Ofosu Ware, also a former mayor of Tema, who on three occasions failed to win the Tema East parliamentary seat, said his attempt to be a Member of Parliament had been unsuccessful but was optimistic that Mr Odamtten would win the seat.

Mr Ofosu Ware revealed that he handed over TMA to the same man and would ensure that Mr. Odamtten won the parliamentary seat for NDC in Tema East.

Hundreds of party faithful including past and present constituency and branch executives thronged the party office amidst singing of party songs in support of Mr Odamtten.