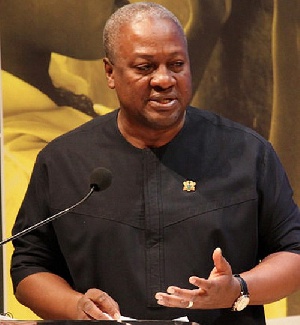 The Central regional Branch of the Opposition National Democratic Congress ( NDC) is demanding an apology from Professor Kwesi Yankah over his claim that former President Mahama made reference to him when he spoke on education during his campaign in the region.
According to the party, the educationist Mahama mentioned as he discussed his plans to review the Free SHS policy in the region during campaign tour, was one Prof Victor Yankah of the UCC and not he, Professor Kwesi Yankah.

The clarification comes on the back of the call by the Minister of State at the Education ministry to Mr. Mahama to desist from using his name in his campaign on education.

"Professor Yankah would therefore not be interested in being part of any process that seeks to compromise the gains achieved by the Free SHS policy. He therefore wishes to advise Mr. Mahama to desist from drawing him into his campaign on education," head of communications for the education ministry wrote on behalf of Professor Yankah.

"How on earth will Hon Kwesi Yakah cause Ekow Vincent Assafuah who even lacks due diligence to issue an insulting press release directed at His Excellency John Dramani Mahama merely because the Former President who is also the incoming President had mentioned one Prof Yankah in his remarks as one of the eminent educationists to be consulted in the review of the Free SHS. Can you imagine?
"Prof Victor Yankah of UCC (pictured siiting at the table with Regional Chairman -Hon EKT Addo when JM was speaking) is the man Former President John Dramani Mahama made reference to during his encounter with the delegates of Cape Coast North Constituency in respect of the "Free SHS Policy Review" comment he made.

"Thus, H.E John Dramani Mahama was not referring to Hon Kwesi Nyankah (Minister of State in Charge mof Tertiary Institution). It is therefore unfortunate for the Minister to sanction his PR to issue such a jaundiced statement yesterday to malign JM and we strongly condemn it without mincing words," the party said.