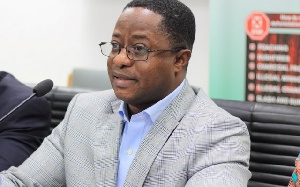 Energy Minister Peter Amewu has said but for the numerous interventions by the Akufo-Addo government, the recent increase in prices of petroleum prices would have been much more devastating for Ghanaians.
Citing the removal of excise duty and the review of the Special Petroleum Tax from 17.5percent to 13percent among other interventions to mitigate the hikes in prices, Amewu said "without government intervention…prices today, would have been GH¢5.54 per litre for petrol and GH¢5.55 per litre for diesel."

"So, what it means is that the price we are paying today, if the Mahama-led administration is still in force, you'll be paying quite close between 9-10percent higher than the current prices that Ghanaians are paying.

"I think it's time you give this government the recognition for caring for the people of this country," he added.

Petrol and diesel are selling currently at GH¢5.18p and GH¢5.14p per litre respectively representing a change in price from the previous pricing window of GH¢4.90p (petrol) and GH¢4.94p (diesel) by 4.49percent for petrol and 3.64percent for diesel.
Meanwhile, the Minority is accusing the Akufo-Addo government of shortchanging Ghanaians with the recent hikes in petroleum products by transferring its incompetence in arresting the free-fall of the cedi to the dollar.

The cedi has recorded massive losses against the dollar, the latest being earlier this month where it hit GH¢4.97 to the dollar. It followed a July fall where it traded at GH¢4.8250 to the dollar depreciating cumulatively, by 5.3 per cent in the first six months, compared to 3.3 per cent in the first half of 2017 despite significant increments of weekly dollar sales to local banks in the country.

Describing the increase as unfortunate, the Minority spokesperson on Energy Adam Mutawakilu said it was mainly because of the depreciation of the cedi.

"And the government, therefore, is transferring their incompetence in the management of the cedi to the ordinary consumer to pay," he stated at a news conference Wednesday, September 19.