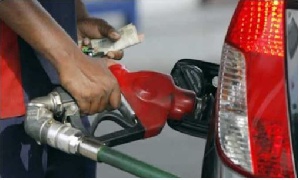 Consumers are yet to enjoy a reduction in the cost of fuel prices in spite of a directive from the National Petroleum Authority(NPA) for review of prices.
The NPA asked Oil Marketing Companies and LPG Marketing Companies to reduce prices at the pump to ease pressure on consumers effective December 1, 2017.

A letter to the OMCs asked them to use revised prices in the Price Stabilization and Recovery Levy Act to control the recent price increases in petroleum products.

This means that petrol will remain at 12 pesewas per litre, diesel and LPG prices have dropped to 3 pesewas per litre from 10 pesewas per liter.
The NPA's directive follows a letter from the Energy Ministry pointing out the fluctuations in the prices of petroleum products as a result of external factors.

But some consumers claim days after the directive, the prices have remained the same at some fuel stations in Dansoman, Santa Maria and Kaneshie among others.

"I bought fuel from Total, it was 4.49 per litre, I actually filled my tank yesterday and it was the same 4.49. We've entered a new week so we're hoping the change in price will be effected to give us some relief." Daniel a driver said.