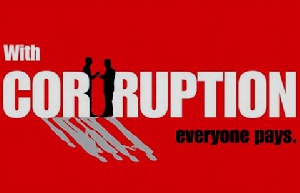 Mrs Mary Awelana Addah, the Programmes Manager, Ghana Integrity Initiative (GII), has urged Ghanaians to take a proactive stand in the fight against corruption, which had eaten deep into the society.
She said it could be eliminated if citizens contributed their quota towards fighting it, as such, they should be bold to report public office holders and private sector actors who engage in the act to the appropriate quarters without fear or favour.

Mrs Addah made the appeal at the Chevening Alumni Speaker Series, an initiative organised by the Chevening Alumni Association of Ghana, on the theme: "Corruption and its impact on Ghana- 61 years on".

Chevening Scholarships is the United Kingdom (UK) government's global scholarship programme aimed at future leaders.

These scholarships enable future leaders, influencers, and decision-makers to develop professionally and academically, network extensively, experience UK culture, and build lasting positive relationship with the UK.

Mrs Addah noted that it was therefore, crucial for citizens to speak out and demand that there must be a change, not proactively reporting incidents but as well following up and ensuring that investigations were done and sanctions were being applied.

She said however, there was a need to get citizens to understand what the advocacy stood for.
She said in few years GII had identified groups where Trainer of Trainers (TOT) programmes were being carried out.

The Programmes Manager noted that they had citizen groups who could understand issues and as well replicate these trainings and information they have received, to their colleagues at the local level.

"This citizen group act as agents of change in the communities and wherever they find themselves", she added.

She pointed out that currently GII were working on a number of groups called 'anti-corruption champions'; these were champions championing the course of anti-corruption in the districts where they are located.

Mrs Addah said this effort makes the work easier; adding that when these groups were trained and empowered, they need to use the knowledge acquired therefore GII links them to the various local level structures.

She said they acknowledge the fact that it was necessary to gather people, get them empowered to be able to demand the transparency, accountability and probity as well as participation at the local level from the structures down there.
Mr Manasseh Azure Awuni, Ace Investigative Journalist said the biggest impact of corruption on the nation and for that matter, Africa was that it had robbed us of our dignity.

He noted that according to the Economic Commission for Africa, between 1970 and 2008, Africa lost $ 800 billion in illicit transfers abroad.

Mr Awuni explained that they had the power to stop corruption; declaring that "if the head of the institution is held accountable, he or she will hold his or her subordinates accountable; a cleaner or clerk in an organisation cannot do much."

"As we charge our leaders to act, it was important for us in our individual capacities to act as well, hence refusing to pay or receive bribes," he said. "Let us not be discouraged when we are told we cannot make any difference, it is not true that our individual contributions will not mean anything," he added.