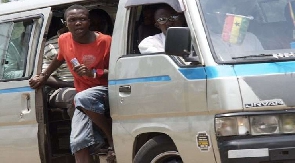 Transport operators and the Ministry of Transport (MoT) will meet in the coming week to deliberate on whether to reduce transport fares to commensurate with the impending 15 per cent reduction in the prices of fuel at the pump.
The National Petroleum Authority (NPA) is estimating a 15 percent reduction in the prices of fuel at the pump from March 15, 2020.

The Chief Executive Officer of the NPA, Hassan Tampuli, is quoted as saying: "We believe that by the next pricing window, from what we have seen with the movement of the products, the prices and so forth, we're likely to see something within the range of 15% reduction".

The expected reduction follows calls from several groups like the Chamber of Petroleum Consumers (COPEC), the Institute of Energy Security (IES) and the opposition National Democratic Congress (NDC) for a reduction in fuel prices.

Reacting to the issue on Onua FM's Yen Sempa on Thursday, the National Vice Chairman of the Ghana Private Road Transport Union (GPRTU), Robert Sarbah, admitted that the 15 per cent reduction is huge and must be looked at.

"If the increase is up to 10%, we increase the fares so if the decrease has been 15%, it's reason that we reduced it."

He added: "In the coming week, it is important for us to meet because 15% reduction is very huge".
Mr. Sarbah noted that "the last time that we increased transport fares was September last year and there has been some increases and decreases of fuel prices so we shall look at it and compare with the reduction of the 15%. If it's up to the 10%, we will have to do something about it but for now, we have not done the calculation and we have not met".

Stakeholders

The Vice-Chairman explained that the GPRTU does not take the decision alone but it is always done in collaboration with other stakeholders.

"It is not one person or one union that determines the prices. We do so in conjunction with other transport operators and the Ministry of Transport."

Mr. Sarbah added that "even if it remains like this, in the next increases in fuel prices, we will not increase the lorry fares so there would be no lost".