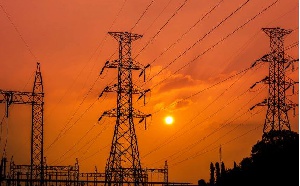 Staff of the Ghana Grid Company (GRIDCo) will on Friday, 29 November 2019 stage a demonstration over some GHS1.2 billion owed the company by key stakeholders in the energy sector.
The workers said they will march to the Electricity Company of Ghana (ECG), Volta Aluminum Company (VALCO) and the Ministry of Finance in demand of their unsettled debts.

The workers, who began an industrial action by withdrawing all emergency services on Thursday, 21 November 2019, have been directed by the leadership of their union not to provide any further services beyond the official working hours.

The members have also been directed to hoist red flags as a harbinger of the turbulent times ahead for the energy sector.
At a press briefing on Thursday, the President of the GRIDCo Staff Union, Raphael Kornor, said the march will lead to a declaration of a sit-down strike on 4 December 2019 if their concerns are not addressed, immediately.

The staff, he said, "have reached their wits end and cannot continue to sacrifice any longer".

He added: "We would be embarking on the action if these debts are not paid, adding: "The GHS250 million which the President directed the Finance Minister to pay; the VALCO debt of about US32,567,974 as of September 30; the ECG debt of about GHS607 million as of March 1, 2019; the PDS debt of GHS94,204, 903 which ECG collected during the suspension of the PDS; the NEDCo debt of about GHS177 million as of September 30, 2019."