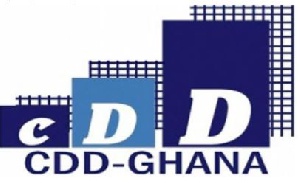 Centre for Democratic Development (CDD) together with anti-corruption civil society groups have jointly petitioned President Nana Akufo-Addo, Speaker of Parliament and the Chief Justice to tackle the issue of corruption in the country.
CDD-Ghana has raised concerns about the creeping normalization of corruption among the populace, threatening Ghana's development.

According to a statement signed by the Director for Advocacy and policy engagement at CDD, Kojo Pumpuni Asante, Ghana has not made strides in the fight against corruption saying "we have stagnated in our fight against corruption for the last 10 years, at least in terms of outcomes. Several indices support this perspective. The Transparency International (TI) 2017 Corruption Perception Index (CPI) shows that between 2008 and 2017, Ghana has never attained a score of 50, which will represent at least a pass mark. Worse still our record over the ten years demonstrates a failure to sustain gains made in certain years".

They also called for clear-cut rules and regulations to check the giving of gifts and ethical conduct of public officials as well as political figures to nip corruption in the bud.
" . . the absence of rules to regulate gift giving and ethical conduct of public officials and political actors is frustrating all meaningful attempts to raise the bar of integrity among public officials and political actors. Because there are no clear rules, it is very difficult to enforce and prosecute offenders based on violations of gift policy, conflict of interest rules and misconduct. In essence, the existing framework is neither prohibitory nor binding enough to instill a high sense of good conduct and integrity among public officials and, it leaves room for a number of unethical conduct that cannot be checked under the current regime".

CDD has therefore asked government and actors in corruption fight to pay a personal price "by speeding up the investigation and prosecution of corruption cases well as asset recovery of proceeds of corruption. We propose a one-year strategy to give Ghanaians visible evidence of a reduction in the incidence of corruption in the provision of administrative services".