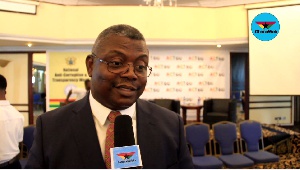 The Deputy CHRAJ Commissioner Mr Richard Quayson says Ghana loses GH¢13.5 billion every year through corruption.
The Deputy Upper West Regional Minister, Mr Amidu Chinnia Issahaku, has advised citizens to support the National Anti-corruption Action Plan (NACAP) to fight graft as the menace causes low living standards and worsen diseases.

He also attributed the slow pace of Ghana's economic development and Africa as a whole to lack of continuous and concerted efforts to fight unbridled corruption.

The Deputy Minister was speaking during NACAP Regional Awareness Campaign in Wa, which was organised by Ghana Integrity Initiative (GII) in collaboration with CHRAJ and the Ghana News Agency (GNA).

The 2018 campaign was under the theme: "Ghana United Against Corruption".

Mr Issahaku noted that corruption remained an economic problem that even aggravates diseases in the world, which causes a low standard of living and poverty among citizens.

"The amount of money lost through corrupt activities can help solve most of our basic challenges," he said.
The government has introduced a number of legislation and policies – public procurement and financial management act – to check graft which would ensure value for money, control expenditure and boost transparency in the public sector.

He said collective actions were required by both government and citizens to deal decisively with corruption for improved development.

"To fight against corruption cannot be done by only the government and it requires the help of the citizens, the media and the civil society organizations to succeed," he said.

Deputy CHRAJ Commissioner Mr Richard Quayson said Ghana losses GH¢13.5 billion every year through corruption.

He urged citizens to support the fight in order to protect and preserve the integrity of the country for coming generations.