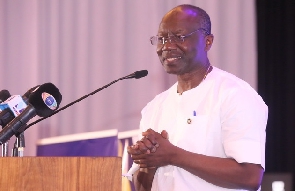 Government's original fiscal projections for 2020 have been thrown into a state of confusion due to the outbreak of coronavirus and the fall in oil prices, the Economist Intelligence Unit (EIU) has said.
This follows computations by the Ministry of Finance suggesting that Ghana is up against an array of virus created problems which translates to an increase in the fiscal deficit from 4.7 percent of Gross Domestic Product to 7.8 percent.

"The authorities now estimate that oil receipts will be some GH¢5.7bn (US$989m) below the figure they previously forecast (which was based on an average oil price assumption of US$58/barrel). Non¬oil revenue will also be about GH¢2.3bn lower, largely because of lost import duties—as borders are closed and companies are shut down, reducing global trade flows.

"Alongside the hit to revenue, spending needs will rise. The government expects health outlays to increase by nearly GH¢1.6bn because of the extra demands resulting from the coronavirus. Against this backdrop, we expect the fiscal deficit to widen to 7.8% of GDP in 2020, up sharply from an estimated 5.1% of GDP last year," The UK-based business advisory firm said in its report.

Finance Minister, Ken Ofori Atta, prior to this disclosed that Ghana's economy will lose GH¢9.5 billion due to the outbreak of the novel Coronavirus pandemic.
According to him, this will represent 2.5 percent of Ghana's revised Gross Domestic Product (GPD).

"Speaker, the total estimated fiscal impact from the shortfall in petroleum receipts, shortfall import duties, the shortfall in other tax revenues, the cost of the preparedness plan, and the cost of Coronavirus Alleviation Programme is GH¢9,505 billion," he earlier said.

Additionally, measures are required, to close the fiscal gap of GH¢11.4 billion, according to the Finance Minister.