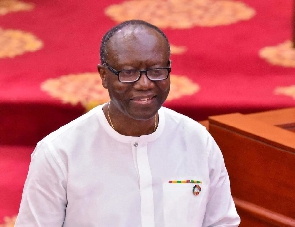 Finance Minister, Ken Ofori-Atta says Ghana is in position to best manage the economy better than most countries hit by the coronavirus pandemic.
This follows the Executive Board of the International Monetary Fund's (IMF) approval for a Rapid Credit Facility (RCF) of US$1 billion disbursement to support Ghana's efforts in addressing the economic impact of coronavirus.

According to him; "The beauty of this is that the rapid credit facility which we went for I think we [Ghana] are the first to have gotten a double quota of a billion dollars and is a zero percent facility, it is 30 years, has 5 and half years moratorium, and it doesn't come with any conditionalities"

"We will do all of the paperwork and possibly by the weekend we should have the Bank of Ghana receiving these funds," he added.

Continuing, Ofori Atta said; "One of the more crucial elements of this is that when you get these shocks on your economy there is usually a liquidity crisis and if you don't manage that quickly you then get into an insolvent crisis which put you into a tail spend."

Meanwhile, the Rapid Credit Facility (RCF) is expected to be accessed by the government from April 18, 2020.
Earlier, Ken Ofori Atta, while briefing Parliament on March 30 disclosed that Ghana's economy will lose GH¢9.5 billion due to the outbreak of the novel Coronavirus pandemic.

According to him, this will represent 2.5 percent of Ghana's revised Gross Domestic Product (GPD).