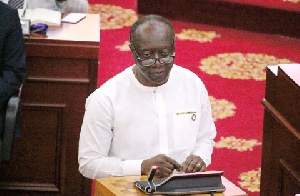 The Ministry of Trade and Industry, in collaboration with the Government of Poland, will receive a 100-million- dollar concessionary credit facility to establish an assembly and manufacturing plant for tractors and modern agricultural equipment.
The facility is under the African-Polish Cooperation Framework.

The tractor manufacturing plant would serve both the Ghanaian and ECOWAS markets geared towards supporting the Government's Industrial Transformation Agenda in respect of rural industrialisation.

Mr Ken Ofori-Atta announced this when he presented the 2019 Budget Statement to Parliament in Accra on Thursday.

The presentation of the Budget is in compliance with Article 179 of the 1992 Constitution, which requires the Government to present the Financial Policy Statement of the country to the Legislature.

The Budget is under the theme: "A Stronger Economy for Jobs and Prosperity," which aimed at modernising agriculture and industrialising the Ghanaian society, protecting the vulnerable and creating jobs and prosperity for the Ghanaian.
The Finance Minister said the One District One Factory (1D1F) programme was a key pillar of agro-industrialisation, with many of the supported factories expected to process agricultural produce into ready-to-consume forms that were previously imported.

He said the Government would revive the textile industry by extending the stamp policy to the textile products to curtail smuggling and counterfeiting and undermining the industry, which could be a big source of employment.



Ghana used to have a textile industry that employed around 30,000 people, but in recent years the industry has fallen on hard times, employing only around 5,000.

To make the textile industry price-competitive, Mr Ofori-Atta said Government would offer zero-rate Valued Added Tax (VAT) on the supply of locally made textiles for a period of three years.
The Minister gave the assurance that government would encourage and promote Ghanaian participation in the renewable energy sector with focus on assembly and manufacturing.

Government, he said, started work on the establishment of a National Development Bank this year to focus on industry and agriculture.

A technical committee appointed by Government has completed its work and has proposed, among other things, that the institution should be set up as a completely new one.

The Government has accepted the recommendations and set-up a project team to operationalise the recommendations in order to launch the Bank in 2019.